Just a small village, a little dot on the map of this great nation, but Kotgih is not just another village. A lesser known chapter of the Indian saree- story lies sheepishly hidden in its lanes, amidst the rhythm of the loom- many looms. A facet of information about the Sambalpuri Ikkat.
In the clamoring call of the numerous looms (100 plus on the last count) lies a music that sings a happy tune. The sarees are received well, by the locals and more. In the bright hues of the homes one can see the vibrance of the hearts weaving these lovely textiles. Every house has a loom, every house has a weaver, more often they have many weavers; some young one in the making too.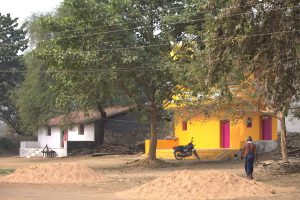 As you walk into the village, the sheer joyful vibe enraptures you. Every house welcomes you with bright blues, yellows and green doors opening to joyful music blaring from within. The weavers are not afraid to let the colours of the sarees to bleed beyond into their walls. Metaphorically only that, since the sarees themselves are woven out of yarns expertly dyed with fast colours, by dyers in Sambalpur, Orissa.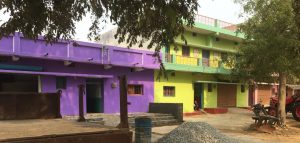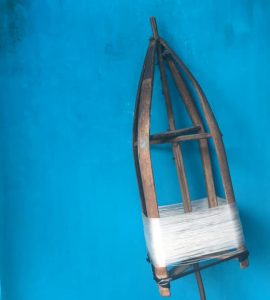 If you thought the visual delight ended here, hold the thought. We also have a river (Jonk Nadi) flowing with temple bells pleasantly chiming nearby. The blue of the skies , the green of the trees and all the other colours are right here : woven into comforting cotton sarees.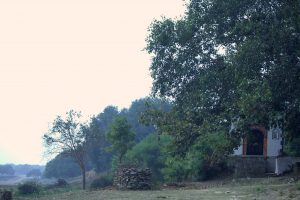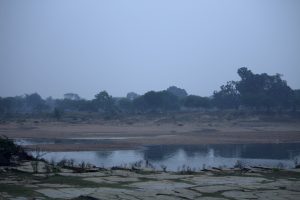 From each home one hears, the weavers favourite music floating, the volume is turned up quite a bit to override the clamoring of the looms. What energy the music and the looms bring to these lanes. Oriya, Chattisgarhi, Old Bollywood to the latest dance numbers; each weaver picks his individual favourite, making his speakers blare. They are paused to exchange greetings and gallantries, as we walk into any home. Every weaver smiles at us briefly and gleefully continues their task. A saree is to be woven by the day's end, one thread at a time.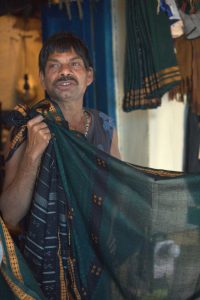 We stopped the longest at the loom of a state awardee weaving family. We are questioned by their young daughter who we learn proudly weaves sarees in between college tests. We also meet a young Dewangan, teacher at the village school by the day, a weaver in the evenings. The Dewangan's are the weaving community of the state. His students learn to weave too, in their homes; becauce as they say in this delightful, colourful little village in Chattisgarh "Yaha to sab Bunkar hai" (Everyone is a weaver here).
Either that or they sell the produce of their fellow villagers in a secret market! & That's our next story. Stay tuned. Till then the simple cotton sarees most humbly demand all your attention. From ikkats to booties in simple jala weaves, Katgih is weaving them all. Coming soon to the Baragaon Weaves showroom!