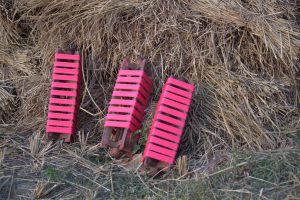 The tiny village of Dhaniyakhali in West Bengal is recognized for its simple cotton handloom sarees. Our Handloom Hunt being extended to Bengal took us to this quaint little place. With huts lined with colorful yarns and the pathway echoing with the music of the looms, Dhaniyakhali welcomed us.
One can reach here after about an hour's drive from Kolkata, or a couple of hours on an eventful local train ride. We'd recommend the train if you know your way around the main line & cord line between Howrah & Burdwan and enjoy some folk music with jhalmuri. Dhaniyakhali will welcome you with a horizon lined with coconut grooves and hearty Bengali sweets.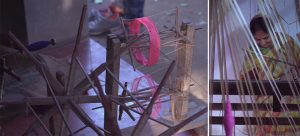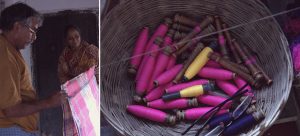 All saree enthusiast would know of the village and would love to own one of the fish motif sarees. The extra weft technique might have traditionally been used to make the fishes. The technique has graduated to adding a small dobby mechanism to the pit looms in the village as fishes are woven. The colors are primarily red, black and the natural white. One can now also find the same patterns in shot colors of grey, black, mustards and oranges. The fish pattern is what the sarees of the village is known for, fishes in many sizes are seen swimming around along the warp direction. However, with the introduction of dobby, we see a whole lot of other patterns including flowers, conch shells, paisleys and more. Most of these patterns see a range of bright pleasant colors. To our delight, we spotted a pile of pastel-colored beauties with plain stripes for borders and shot colored bodies.
A lesser known feature is the "Khejur kata" – a detailing easily overlooked. The entwining of threads makes for a line that is a technical marvel when it comes to weaving. Found in the pallav, these lines consist of the weft threads twisting around the warp threads in a braid like fashion to give the multicolored "Khejur kata", literally referring to the thorns of the date tree which they are meant to be.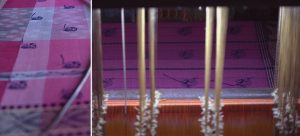 What is curious about this place is the fact that very few weavers have ventured outside the scope of sarees! Not many stoles and dupattas flow around here and only a few looms have begun weaving fabrics to the order of patrons from Kolkata. A little bit of silk, with the warp remaining cotton, is woven. Every weaver (taanti) seemed to respect the sarees they make, to the extent of taking offense if one suggested using their craft to fashion garments.
We have hoarded a small collection of the fish sarees and a few plain ones. These pretty pieces await you at the store @ E-28, Hauz Khas main market. See you there soon.